Could eBay Ban Google Checkout?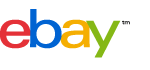 MarketingVOX uncovers an interesting theory that eBay may conveniently decide Google Checkout doesn't meet their approval, preventing eBay merchants from using the new service.
According to eBay's policy, approval is in part dependent on "whether the payment service has a substantial historical track record of providing safe and reliable financial and/or banking related services (new services without such a track record generally cannot be promoted on eBay)."
UPDATE: Jason Miller pings me to let me know that he saw this coming… 9 months ago!!! I'm gonna ask Jason for this weeks lottery numbers and next year's Super Bowl winner.