Google Named Fortune's Best Place to Work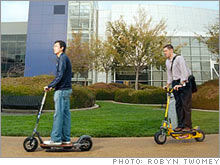 Grab you morning coffee and settle down for a long, envy-inducing read as to how Google made it to the top of Fortune's list of Best Companies to Work For.
Is it any wonder, with benefits like these?
At Google you can do your laundry; drop off your dry cleaning; get an oil change, then have your car washed; work out in the gym; attend subsidized exercise classes; get a massage; study Mandarin, Japanese, Spanish, and French; and ask a personal concierge to arrange dinner reservations. Naturally you can get haircuts onsite. Want to buy a hybrid car? The company will give you $5,000 toward that environmentally friendly end. Care to refer a friend to work at Google? Google would like that too, and it'll give you a $2,000 reward. Just have a new baby? Congratulations! Your employer will reimburse you for up to $500 in takeout food to ease your first four weeks at home. Looking to make new friends? Attend a weekly TGIF party, where there's usually a band playing. Five onsite doctors are available to give you a checkup, free of charge.
Ok, I'm done. Google, I'm ready to come over to the dark side. Either build in Lenoir or let me work at the (not so) super-secret Chapel Hill location. 🙂