Mike Grehan Joins Bruce Clay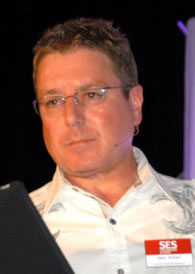 I'm finally able to put an end to the rumor that Mike Grehan and I are working on a project together!
Congratulations to Mike, as we've learned that he has joined Bruce Clay, Inc as their Vice President, International Business Development.
In his new role he will be responsible for helping to further develop and implement the company's global growth strategy, while also actively supporting client services on key accounts.

"We are extraordinarily excited to have Mike Grehan join the company," said Bruce Clay, President and founder of Bruce Clay, Inc. Mike brings a broad range of search engine marketing and optimization experience as well as international business development and management skills to our team." He added, "I am looking for Mike to be a key member of our international business development team extending our high quality search engine marketing services and training, globally."

Prior to joining Bruce Clay, Grehan held senior management positions with other large search marketing firms including iProspect and Think Partnership, Inc. As a widely known industry columnist and commentator with ClickZ network, Grehan is also a regular speaker at major industry conferences such as Search Engine Strategies, ad:Tech, Webmaster World DMA and many other seminars and events including the newly formed Search Marketing Expo.

"I am delighted to be joining Bruce Clay's world-class team to help them achieve their international growth objectives. Without doubt, I am associated with a strong team that is unconditionally committed to quality and ethics," said Grehan. "The firm's expanding international industry presence offers me exciting new challenges and opportunities. And I'm very much looking forward to it. Bruce Clay is a major figure in the industry, personally. Working together, we can achieve company objectives much more rapidly."
Sounds like Mike's still going to earn enough air miles to fly to the moon and back – ten times – each year. 🙂
Congrats pal!