posted on
January 9, 2007
…but I want an iPhone!
posted on
January 9, 2007
I've noticed that I'm visiting Search Engine Watch less and less these days. Don't get me wrong, I think they're doing an admirable job in keeping it active, but since the departure of Danny, Chris and Barry, it's just not been the same.
Without the industry contacts and scoops that Danny Sullivan brings, it looks like traffic levels have dropped off significantly. Here's the Alexa stats for SEW versus Danny's new home, Search Engine Land.
Does this mean SEW is doomed to fade into obscurity? Maybe not, they'll likely just level-out at some point. The question is, how long will it take before Search Engine Land has more traffic than Search Engine Watch. My guess, is that by the end of March, we'll see that happen.
posted on
January 9, 2007
The SF Chronicle profiles some of the 900+ Google employees who became instant millionaires, once Google became public.
New found financial freedom and the loss of the "I mean something here" mentality, makes it difficult for Google to retain many of it's most experienced employees.
Financial freedom gave the former Googlers in this article wide latitude in deciding what to do with their lives. The reasons for leaving are many: Alack of new challenges, ambivalence about the company's growth and a desire for a career change are just a few.
It's interesting to see what's left in life, after working for arguably the best company in the U.S.
posted on
January 8, 2007
It seems like every other week, someone will come out with a story that just catches fire in the SEO community. After all, we SEOs need something to gossip about don't we? The story of the week has been Google indexing CSS & JS files. From there Threadwatch & Wolf Howl picked it up.
I think most of these people have it wrong though. Do we really think that Google is worried about hidden text in this day and age? There are so many legitimate ways and reasons to place text on a page that the users do not see when it first loads. Just look at Yahoo's homepage and use of CSS on-page tabbed browsing. I believe the only on-page spam techniques they really care about are auto generated content, cloaking, and redirects. Hidden text is just no longer a factor in Google's SERPs.
posted on
January 8, 2007
Former Proceed Interactive exec, Jon Schepke, is back in business for himself, after a brief gig with iCrossing. The lure of starting another internet marketing firm was just too much for Jon – I know how that feels – and so he's brought together some former Proceed employees and launched Strategic Internet Marketing Partners.
Best of luck Jon!
posted on
January 8, 2007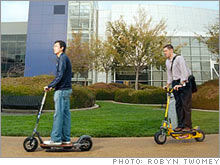 Grab you morning coffee and settle down for a long, envy-inducing read as to how Google made it to the top of Fortune's list of Best Companies to Work For.
Is it any wonder, with benefits like these?
At Google you can do your laundry; drop off your dry cleaning; get an oil change, then have your car washed; work out in the gym; attend subsidized exercise classes; get a massage; study Mandarin, Japanese, Spanish, and French; and ask a personal concierge to arrange dinner reservations. Naturally you can get haircuts onsite. Want to buy a hybrid car? The company will give you $5,000 toward that environmentally friendly end. Care to refer a friend to work at Google? Google would like that too, and it'll give you a $2,000 reward. Just have a new baby? Congratulations! Your employer will reimburse you for up to $500 in takeout food to ease your first four weeks at home. Looking to make new friends? Attend a weekly TGIF party, where there's usually a band playing. Five onsite doctors are available to give you a checkup, free of charge.